about
DRIVING FORCE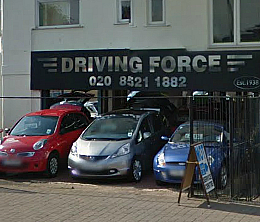 a gem of a car dealership with mot testing, servicing and repairs rolled into one

.

Driving Force have been in business for over 25 years as one of the leading Used Car Dealerships in the UK, selling Used Vehicles to our Hundreds of Happy Customers Worldwide. Over the years Driving Force has continued to grow and now has dedicated departments for Used Car Sales, MOT Testing, Servicing & Repairs. Located in the heart of Walthamstow London E17 9DS, we are only 5 mins from M11 and A406. Closest train stations are: Wood Street Station, Walthamstow Central or Leytonstone. We can pick you up from any station subject to adequate notice.

Located: 817-823 Lea Bridge Road, Walthamstow, London E17 9DS.
Call now: 020 8521 1882


We are a Which?
Trusted Trader
We are a member of
the Good Garage Scheme
click to see our car stock
what we offer
U

sed car finance and extended warranty

C

ar e

lectronic diagnostics

New and part-worn tyres

B

o

dywork repairs

Tyre and exhaust checks

Brake checks

Laser wheel tracking and alignment

Auto electrical checks

Battery and lights check

Clutch and gearbox repairs and overhauls

Air conditioning recharge
Get to know more about
DRIVING FORCE
WE ARE SOCIAL. GIVE US A LIKE ON FACEBOOK OR JOIN IN WITH THE CHAT ON TWITTER.
Our history is modest, but our service to customers is fantastic. Call us today. Let us look after you.

SPECIALISTS IN:
ALL MAKES AND MODELS
Driving Force mechanics are trained to work on Classic cars to Modern day cars. Don't worry. We have years of experience behind us.
Our workshops are equipped with the latest ramps, diagnostics and testing equipment. We offer a quick and courteous service. Get in touch today.